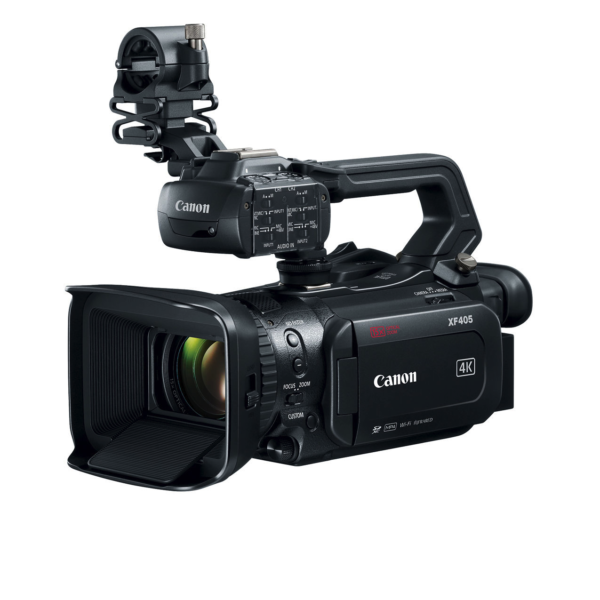 Canon XF405 4K
Canon XF405 is a handheld, lightweight 4K and full HD camcorder.
Canon 405 4K Camcorder Hire Rental London
Included in Kit
2x Canon Batteries
1x Battery Charger
2x SanDisk 64GB SD Cards
1x SD Card Reader
1x SDI Cable
1x HDMI Cable
1x Headphones
Specs
Camera:Image Sensor:Sensor
1.0 – type CMOS
Filter
RGB Primary Colour Filter
Total pixels
13.2 MP
Effective pixels per sensor
8.29 MP
Subject illumination range
Approx. 0.1 lx 01 to 100,000 lx
Minimum illumination
Approx. 1.4 lx , P Mode(shutter speed 1/25 sec.) (50.00P; with auto slow shutter On), Low Light Mode: Approx. 0.1 lx (shutter speed 1/2 sec.)
Lens:Zoom ratio
15 x Optical
Focal length
Approx. 25.5 to 382.5 mm
Minimum focus distance
10 mm at wide end, 60 cm across entire zooming range
ND filter
3 densities: turret switched, motor-driven.
Each press of the ND button will switch the display between ND 1/4, ND 1/16, and ND 1/64.
Zoom control
Via Zoom Rocker Switch, Lens Control ring or Remote Control
Zoom speed
Selectable. Variable or constant speed. Fast, Normalor Slow speed.
Focus control
Manual via Lens Ring, Dual Pixel CMOS AF, Face Only, Face Priority
Iris control
Manual via Iris Control Dial, Auto
Aperture range
f/2.8 – f/11 (AV Priority and Manual Modes)
Filter diameter
58mm
Lens elements/groups
14 groups of 18 elements (double aspherical lenses and single Hi-UD lenses)
Aperture blades
9 Blades

Image stabilization system
Optical system (lens shift) + electronic stabilization Dynamic, Powered IS, Standard
Digital zoom/Teleconverter
Yes. 300 X Digital Zoom, 2 X Digital Teleconverter.
Image Processor:Type
Dual DIGIC DV6
Dynamic Range
12 stops (800%) in Wide DR mode
Sampling accuracy
YCC 4:2:0
Bit depth
8 bit
Recording:Video storage media
SD/SDHC/SDXC card
Type
Class U3 recommended for recording at 150MBPS
Recording time (64GB Card, approx.)
150 Mbps: 55 Minutes. 35Mbps: 240 Mins
Recording file system
FAT32/exFAT
Internal Recording format
MP4 3840×2160 (150 Mbps) / 1920×1080 (35/17 Mbps)/1280×720 (8/4 Mbps) NTSC: 59.94P / 29.97P / 23.98P PAL: 50.00P / 25.00P
External Recording Output
SDI: XF405 Only NTSC:1920×1080 59.94P YCC422 10bit /1920×1080 29.97P YCC422 10bit PAL: 1920×1080 50.00P YCC422 10bit / 1920×1080 25.00P YCC422 10bit
HDMI: XF405 and XF400 NTSC: 3840×2160 59.94P YCC420 8bit / 1920×1080 59.94P YCC422 10bit / 3840×2160 29.97P YCC422 8bit / 1920×1080 29.97P YCC422 10bit PAL: 3840×2160 50.00P YCC420 8bit /1920×1080 50.00P YCC422 10bit / 3840×2160 25.00P YCC422 8bit / 1920×1080 25.00P YCC422 10bit
Recording frame rate (PAL Mode)
50.00P/25.00P
Slow/Fast motion
Yes.3840 x 2160: 50.00P x2, x4, x10, x20, x60, x120, x600, x1200 17.5 Mbps. 25.00P x0.5 180 Mbps 1920 x 1080/1280 x 720:50.00P x0.5, x2, x4, x10, x20, x60, x120, x600, x1200 70 Mbps. 25.00P x0.25, x0.5 140 Mbps
Interval RecordNoFrame RecordNoPre Record (cache record)
Yes. 3 Seconds
Scan Reverse
No
Still quality
3840×2160 / 1920×1080 / 1280×720 (Still image resolution is dependent on the video resolution)
Photo storage media
SD Card
Audio:Recording
MPEG-4 AAC-LC (16-bit 2CH) / LPCM (16-bit 4CH)
Control
Manual or Auto
Reference Tone
1KHz, -12dB / -18dB / -20dB / Off
Microphone level metre
Yes
System:Panel:Type
LCD Capacitive touch panel
Size
3.5-inch (8.9 cm)
Dots
(approx. 1.56 million dots)
Adjustable
Yes
Focus Assist
Yes. Focus Guide Function in MF
Peaking
Yes. Selectable Peaking Colour: Red / Blue / Yellow
Zebra
Yes. 70%, 100%
Inputs/Outputs:Audio in
XLR 3-pin jacks (x2), balanced on Handle Unit. 3.5mm Stereo jack (unbalanced) on camera body
Headphone output
Yes. 3.5mm
Video monitor output
No
HDMI
Yes.
USB
Yes. Min-B and Hi-Speed USB supported
SDI output
Yes. BNC Connector (XF405 only)
Time code
No. Timecode out via HDMI is possible
Genlock
No
Auto White Balance:Setting
Auto, Manual
Infrared:Infrared shooting mode
Yes