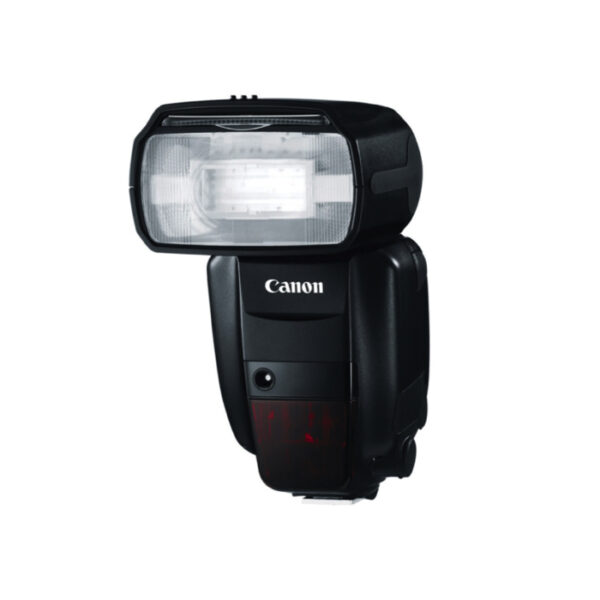 Canon Speedlite 600EX-RT Flashgun
Canon 600EX-RT for professional flash photography.
Canon Speedlite 600EX-RT Flashgun Hire Rental London
Included in Kit
1x Canon Speedlite 600EX-RT Flashgun
4x AA Bateries
Pouch
Specs
AF assist beam works with up to 61-point High Density Reticular AF system.
There are 18 custom functions and 7 personal functions for maximum customization.
Optical transmission is available in addition to radio transmission.
Quick Flash settings speeds up recycle time and flash duration.
Manual power settings from 1/1 to 1/128 power in 1/3-stop increments.
Flash colour temperature information is automatically transmitted to the camera.
Automatic power off function.
Flash exposure compensation from -3 to +3 EV in 1/2 or 1/3 EV steps.
PC sync port and remote release terminal for off-camera triggering.
Flash duration of 1.8 ms or less, or 2.3 ms or less in Quick Flash mode.
Stroboscopic setting from 1-500 Hz, or 1-199 Hz during optical transmission wireless shooting.
Wireless flash ratio control from 1:8 to 1:1 to 8:1 in ½-stop increments.
Compatible with ST-E3 Speedlite Transmitter.
Approximately 100-700 flashes with AA alkaline batteries.
Locking metal foot.
Bracket mounting hole.
Built-in retractable bounce card.
Mount
Hot Shoe
Guide No
197′; (60.05 m) ISO100 at 200 mm Position
Exposure Control
E-TTL / E-TTL II, Manual
Angle of Coverage
94° – 12°
Wide-Angle Adapter
114°
Vari-Power
1/1 – 1/128
Bounce Head
-7 to +90°
Swivel Head
360°
Coverage
14 – 200 mm (Full Frame)
Distance Range
1.64 to 98.43′ (0.5 to 30 m) at f/1.4
Zoom Head
Full Frame: 20 – 200 mm
Off-Camera Terminal
PC, Proprietary
Recycle Time
Approximately 0.1 – 5.5 Seconds
Flash Duration
0.0018 – 0.0023 sec @ Full Power
Flash-Ready Indicator
Yes
Wireless Operation
Method: RF
Distance
Up to 98.43′ / 30 m
Method: Optical Pulse
Distance: Up to 49.21′ / 15 m
Power Source
4x AA Batteries